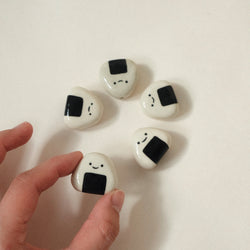 Onigiri Porcelain Mini Bud Vase *SECONDS*
This item is a seconds piece and did not pass our quality check, which means it has slight imperfections that include one or more of the following:
- Mis-shaped
- Black speck(s)
- Imperfect face (but still cute!)
- Glaze imperfections

Cheer up your day with a handmade ceramic onigiri (Japanese rice ball) mini bud vase! A charming & cute design, this tiny vase will add some fun & delight to your home. A little hole at the top allows you to insert 1-2 small leaves or flowers (perfect for dry flowers!). Note: The hole is not large enough to hold water.
- Measures approximately 1" tall
- Made with porcelain clay and glazed for a smooth & shiny finish
Handmade with love in Seattle in my little home pottery studio.
Each item is one of a kind and may contain minor imperfections due to the nature of the product. All items are made by hand and may look slightly different from the product images shown here. Sales are final, no refunds or exchanges